This post explains how you can watch NBC's production of "Annie" the musical live (ok, recorded from live) for fr'ee online! Bah-BOOM! Happy new year!
Read my letter here for step-by-step instructions. It explains how to watch it, step by step.
(Hints: it's pretty easy. You do have to log in to a TV provider account to view it.)
Fun news for lovers of Broadway musicals: you can watch NBC's holiday performance of "Annie!" the musical, starring one of my lifetime favorites, Harry Connick, Jr., as Daddy Warbucks, for free!
If I'd been on top of this, I would have sent the info ahead of time (a-hem), so you could watch it when NBC ran it live the week before Christmas. As things went, however, I was in my own concert the day of this performance, plus two others on other days that week; and I in fact wasn't on top of anything besides my own concerts, the holiday itself, finishing learning some music, teaching lessons and coaching, business, and family stuff, so there went telling you about "Annie!" live. Sorry about that. Sorry not sorry, I suppose, since we can each only do so much.
But the great news is that you can still watch it on-demand for zippo dinero! Yea!!
STEP 1 TO WATCH RECORDING OF "ANNIE" LIVE with Harry Connick Jr.: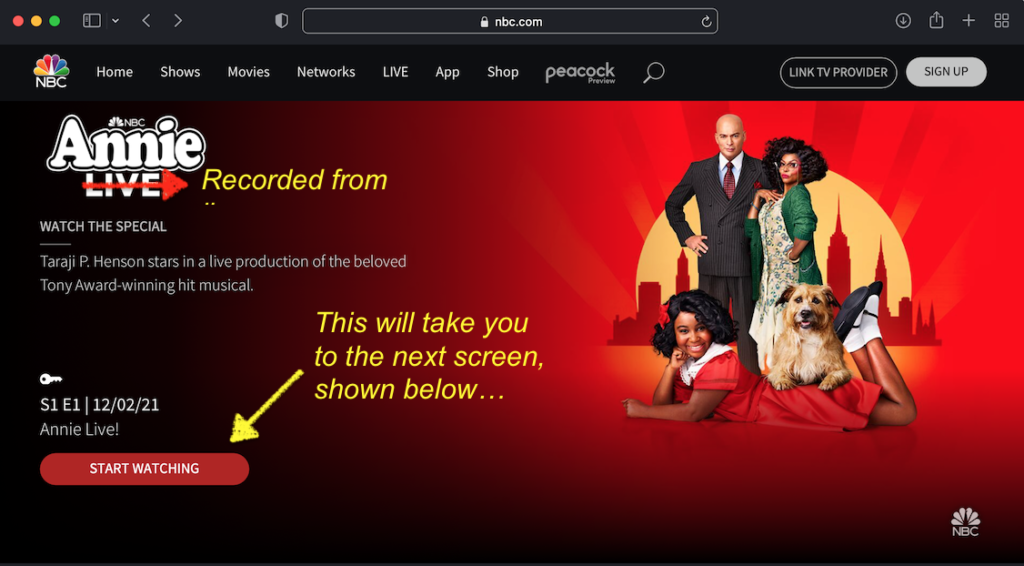 STEP 2:
If you have trouble accessing it, unfortunately I can't help you. You'll need to contact either your TV provider's support team (as seen on the list) or contact support at NBC. And if it doesn't work at all for you, find something else to do and remember what Annie always says: "The sun'll come out tomorrow! Bet your bottom dollar that tomorrow, there'll be sun!"
Enjoy!
Natalie
THIS NEXT ANNOUNCEMENT
COULD BE YOUR BIG VOCAL-DEVELOPMENT OPPORTUNITY IN 2022:
A Higher Note LLC proudly presents…
A PILOT PROGRAM OPPORTUNITY TO 
✔︎ Dramatically Improve Your Voice
✔︎ Ramp Up Your Performance Confidence
and
✔︎ SAVE BIG-TIME IN 2022!
I am launching a PILOT group vocal instruction & coaching program online in early Jan 2022. My goal is to develop what's currently a "very good" program into an incredible program with the help of my pilot clients.
Because of the pilot aspect of this 2022 program, it will be deeply discounted from what the program will be once it's completely developed.

NOW IS THE TIME TO JUMP IN TO GET THE BEST POSSIBLE RATE YOU'LL EVER SEE FOR THIS PROGRAM.

Are you ready to DRAMATICALLY IMPROVE YOUR VOICE IN 2022?
Get the details here…