Throughout my twenties, this Texas (born) gal lived and worked in Washington, D.C., working in marketing for a few years, then in dinner theater and Gilbert & Sullivan theater for with the now-defunct Washington Savoyards several years, then in youth ministry for the balance of the decade there, with my singing shifting into a focus on private-events and worship-leading and team-development. It was a great decade living in our nation's capitol!
The place is incredible, really, if insular (although that's another story), with SO, SO, SO many resources, exciting and educational things to do, and historic and political places to see. The Smithsonian system is unrivaled – especially for FREE museums (now that's rare, isn't it?)! I must've explored the National Cathedral four dozen times or more, worshiped there, or just listened to one of the Cathedral choirs. I have so many memories of D.C.: walking, shopping, and eating, in Georgetown; fireworks on the Mall; boating on the Potomac; taking in the monuments; biking Rock Creek Park on Sunday afternoons; Cherry Blossoms in the spring; watching Marine silent drills; attending the National Theater (I saw "Les Miserables" there twice!); commuting via the Metro Rail; standing next to The Awakening (giant) statue at the point (now moved to Alexandria); walking the Capitol underground, touring the White House; eating at the Old Ebbitt Grill (oh yum) or any of a thousand other amazing restaurants; and (huge) learning to navigate the crazy streets, traffic, and crowds that comprise downtown D.C.!
And I haven't even gotten to Adams Morgan, Anacostia, the Pentagon, Arlington National Cemetery, the Cartoon Museum (started by my friend's collection!), or a bazillion other places you should definitely explore as soon as you are able to get there!
As a musician, several of my most lingering memories are from the Kennedy Center. The Center itself is, simply put, Impressive inside and out. Click on any of these photos below to ogle the gorgeousness of the building's exterior and interior:
I attended or performed at lovely events there (never on the main theater stages, unfortunately! just on special-event stages) on several occasions. But what I really appreciated and enjoyed as a young, getting-established person were my "cheap seat" subscriptions to their music series. 🙂 Annually, the Kennedy Center offers packages for the second and third balconies at fairly low prices. I expanded my arts awareness by attending several of these series, mostly in the concert hall, but also in the opera house.
It was in the concert hall that I first experienced the amazing design that can be achieved for optimization of beautiful sound transmission.
At some point in one of the series, I attended a concert by guitarist Christopher Parkening (amazing, of course). In addition to his performance, what enthralled me was the amazing transfer of sound from the stage to my "cheap seats" area at the back of the second or third balcony.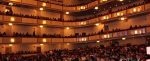 It struck me that the space and materials had been chosen and designed so that Parkening's magical guitar playing could be clearly heard and enjoyed all the way from the stage to the upper balcony, back row.
But it wasn't until my wonderful voice teacher in the mid- and late-1990s, David Troup, described to me the similarities between the human body and an optimized concert hall that I made the connection. Over the next several posts, I'm going to walk you through those similarities, what they mean for your voice, and how you can optimize "your God-given concert hall."
Take Action!
In case this has inspired you to visit a concert hall or performance anywhere: here, a blogger at ArtsEdge has posted about etiquette concerning attending a performance in a concert hall, with thoughts on "before you go" and "during the show." Learn, be inspired, visit one, and enjoy!